Download Apple QuickTime (for .mov or "QT" video files) from here http://www.apple.com/quicktime/win.html or here http://www.apple.com/quicktime
If the Quicktime clips won't play for you, you may need to re-install Quicktime using the iTunesSetup.exe (click here to download) file, even if your Quicktime says it is up-to-date. (not to discourage you, but your Webmaster bought the version 6.5.2 "QuickTime Pro" software, and ** I ** can't even play the newer .mov QT clips without it saying I have to "pay more money for a newer 7.0 version", so "Good Luck".
If you can't get Apple's QT player to work, fear not, the freeware one below works nicely !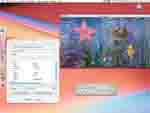 Besides the Windows Media Player and QuickTime, we also recommend VLC Media Client, an OpenSource player that plays many formats and is available for PC, Mac, Linux, etc., get it here
Back to http://www.remembermayapur.com