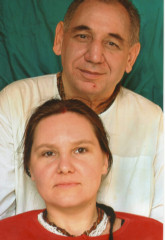 HG Padmalochan Das
8 March 2011 - Interview Angela Burt did with Padmalochan, where he is talking about meeting Srila Prabhupada, joining ISKCON,
his services and personal moments with Srila Prabhupada.
13 January 2011 - last talk by Padmalochan Das - "This is recording of the talk with Padmalochan Das, on 12-March-2010 @ 8:35 pm, recorded by Sadhu prabhu, only 15 days before Padmalochan Das left this world.....he speaks about Srimati Radharani's unlimitedly kind love; about his service to Srila Prabhupada; also about his brahmin initiation in Mayapur
in 1973; about early Mayapur days.... as a sanyasi, Bhakti Brihad Bhagavata Swami was interviewing him."
19 December 2010 - please see these new blogs - https://brijabasi.blogspot.com/
https://padmalochan.wordpress.com/ https://www.facebook.com/padmalochan.vrindavanlila
16 December 2010 - Padmalochan's books
14 December 2010 "dhama.mp3" - Vrindavan Lila says "I found an audio recording where my husband speaks with Gangadhar prabhu about his research work on Navadvip Dhama, book he wanted to write. He has not finished this book, only started (I pray that he will be allowed to finish it in his next existence)."
29 October 2010 Puspa-Samadhi of Padmalochan Das
21 April YouTube slideshow about Padmalochan, and, phone call between Padmalochan and Aindra das
5 April Vrindavan Lila dasi speaks about Sriman Padmalochan's passing